Book 1: MoonFall
Book 2: MoonFire
Book 3: MoonDust
Book 4: MoonRise
MoonFall
It's been twenty years since the world came to an end.
The day Earth's moon exploded, the dark of night took on a whole new meaning and existence became a matter of who could survive in the new world.
Noah Brennan has been surviving alone, with only his six-shooter as a companion. And that's the way he likes it. But when he encounters a militaristic, cult-like society hell-bent on restoring civilization, he's forced to choose between his freedom and finding answers that could change his life and the world.
*****
MoonFall is not your standard doomsday novel. Filled with guns, swords, and action, it brings the best of the frontier genre in a world set back by catastrophe; a true post-apocalyptic adventure.
MoonFall is the first book in a series of four.
Get it here:
Amazon.com
Amazon.co.uk
iTunes
Nook
Kobo
Smashwords
Google Play
MoonFire
Noah Brennan has an agenda.
Steal the Oracle, find Astra, and save what's left of the world. Only two things stand in his way: the Elders and the Universe's twisted sense of humor.
When an ordinary supply run is ambushed by a group of vicious cannibals, Noah finds himself facing death by cannibalism or capture by a tribe of savages. For the first time in months, Noah is alone, away from his mission, away from the one person he needs by his side.
Now, Noah must find a way to get back to Apollo, back to Molly, and complete his plan before it's too late to save anyone.
*****
MoonFire is a different kind of apocalypse story. You won't find the typical prepper here, or the clean-cut logical dystopia. This is a story of man trying to survive on his wits alone, of civilization attempting to make its last breath count. And no, this novel doesn't have zombies—it has something far, far more terrifying.
MoonFire is the second book in a series of four.
Get it here:
Amazon.com
Amazon.co.uk
iTunes
Nook
Kobo
Smashwords
Google Play (Books 2-4, Box Set)
MoonDust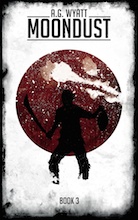 Sometimes civilization isn't all it's cracked up to be.
As Noah Brennan's world slips into chaos, he is driven away from the only place he's felt he belonged since the moon exploded.
Narrowly escaping with his life and his friends, he is drawn deeper into a journey where one misstep means certain disaster. The only device that can lead him to Astra and any chance of building a better world is in Apollo, but going back may be the end… for them all.
*****
MoonDust brings the best of pulp sci-fi in a post-apocalyptic setting. It features clashing civilizations, reluctant heroes, and the mystery of advanced technology, all under the shadow of a terrible tragedy that befell Earth. This series is not about how and why the world ends, it shows something more horrific: what becomes of humanity after everything has turned to dust.
MoonDust is the third book in a series of four.
Amazon.com
Amazon.co.uk
iTunes
Nook
Kobo
Smashwords
Google Play (Books 2-4, Box Set)
MoonRise
Noah Brennan has encountered death more times than he cares to remember.
Since returning to society, he's been imprisoned, beaten, and endured adversities that would have broken a lesser man. But every pain he has suffered has led him to his true purpose: finding a better world.
Now, to find salvation, Noah must make one last journey. A journey where bonds are tested, friends are lost, and old enemies stand in the way.
The only question left for Noah to answer: can he do what it takes to save humanity, even if it means losing everything?
Amazon.com
Amazon.co.uk
iTunes
Nook
Kobo
Smashwords
Google Play (Books 2-4, Box Set)